Last June I have read about the Hearthstone in one blog post and for a colector like me the game sounded interesting. I have installed the game on PC on June 29 and it become my favorite way for relax after work or in Week-End. It was better that I could also play on my mobile.
After one year of playing daily, but not long hours maybe yould be interested in some statistics (F2P):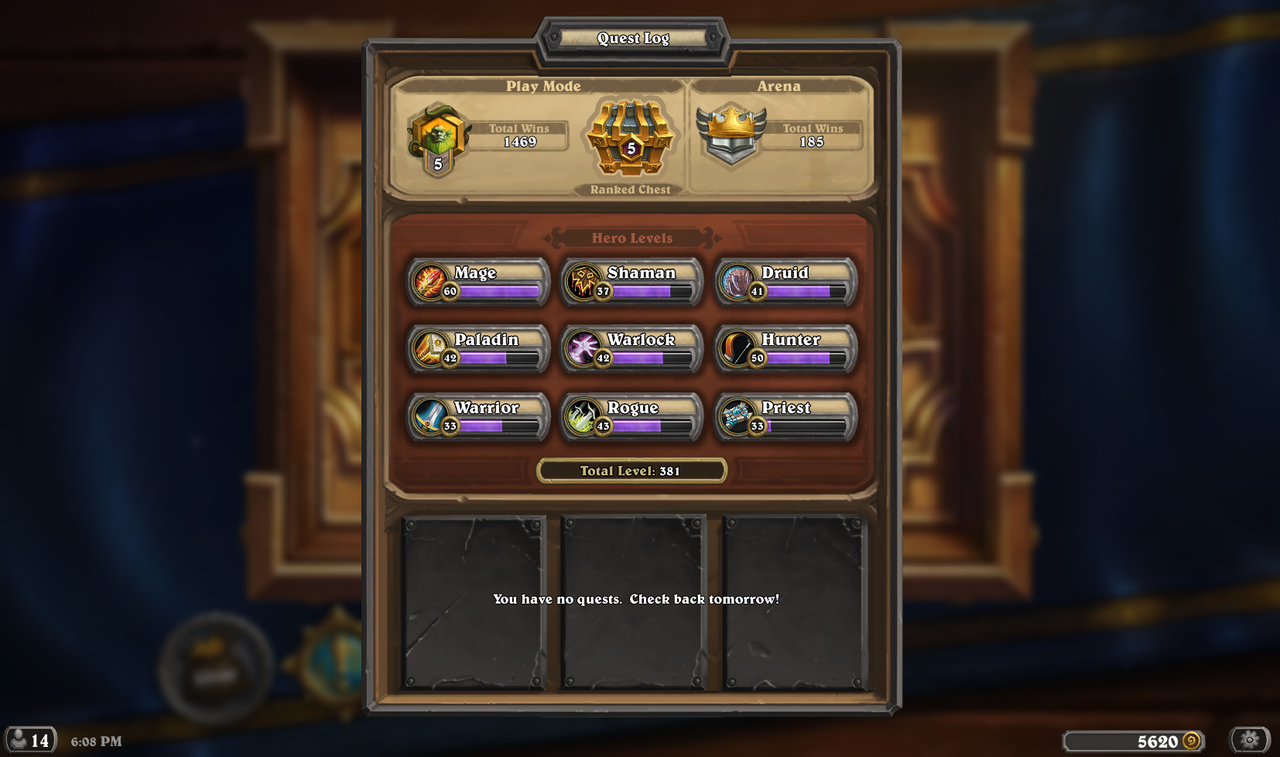 https://i.postimg.cc/dtbF34Qz/Hearthstone-Screenshot-06-29-19-18-08-12.png
1469 wins in ranked, 185 in Arena
Max Level : 5 reached yestherday for the first time (in Wild). max level in Standard 9 (last season with Token Druid)
Only Mage is level up to 60 since the first 3-4 months I was plaiyng Jaina (with homebrew bad decks) almost exclusively. I unpacked Frost Lich Jaina from the Frozen Throne Prologue and I was having a blast at levels 25 to 18 😀
Most Wins in Ranked I have with Hunter (after I discovered with your help the magic of Net Decks and the fantastic Midrange Hunter with Dire Mole and Crackling Razormaw) – 186 Wins.
Most Wins in Arena – 9 with Warlock (i don't play alot of arena – It seems something that you need to spend some time to prepare if you want to get consistently over the 3 wins treshold)
I enjoy most the Tavern Brawls with random generated minions or spells…
I never disenchant non-duplicate/triplicate cards (except nerfed cards which I will recover later, either in packs or recraft them if they will go out of standard). I disenchanted some golden cards for dust in order to be able to craft the Hall of Fame cards I missed, but recrafted standard versions after I had enough dust. I disenchant golden extra copies.
So, after 1 year I have:
Classic cards (I probably bought 2 or 3 packs with gold, the rest were quest and brawls rewards) 287/443:
Common 171 / 186
Rare 92 / 154
Epic 17 / 72
Legendary 7/31
The rest of the expansions accesible for gold in the last year:
Rise of Shadows 182 / 248
Rastakhan's Rumble 179 / 247
The Boomsday Project 163 / 248
The Witchwood 132 / 237
Kobolds & Catacombs 144 / 247
Knights of the Frozen Throne 136 / 247
Journey to Un'Goro 113/247
In total:
Free 266 / 266
Common 920 / 1426
Rare 447 / 1038
Epic 86 / 678
Legendary 43 / 301 (3 golden)
​
After randomly open packs at the beggining, I started to strategize this:
The most eficient metod of course is to save gold for the next expansion, but it works only if you have a good collection.
So I started to split the gold, some for the next expansion and some to buy expansions that I was missing cards while chasing the legendary pity timer for each expansion.
I started recording opened packs on August 10, 2018, and I opened 331 packs as a FTP player. In one year I missed just 1 quest (I forgot to complete one the day before and the quest log was full) – 21 of them contained a Legendary card. (Remember this statistic was recorded after I've opened the guaranteed 10 pack legendary from 6 sets)
My first legendary was Toki and it was an autoinclude in my Mage deck, I loved the random legendaries I've got when I run it.
The only golden legendary I unpacked is The Boom Reaver in the first day of ROS expansions from the 30 packs I've bought with saved gold.
I also managed to buy the whole Dalaran Heist with gold (and I loved playing it).
​
In conclusion
I'd like to thank you all for helping me in the begginers section, special thanks to u/cgmcnama for the Begginers Guide, now I try to help too….
I'd like to thank hsreplay.net, heartharena.com, pitytracker.com for the tools and statistics.
And to Blizzard, after one year of F2P enjoyment I thanked them by buying the Wild Bundle…
​
And yes, it seems the Tavern is Always Open 😀
Source: Original link
---
© Post "One Year of Hearthstone" for game HearthStone.
Top 10 Most Anticipated Video Games of 2020
2020 will have something to satisfy classic and modern gamers alike. To be eligible for the list, the game must be confirmed for 2020, or there should be good reason to expect its release in that year. Therefore, upcoming games with a mere announcement and no discernible release date will not be included.
Top 15 NEW Games of 2020 [FIRST HALF]
2020 has a ton to look forward to...in the video gaming world. Here are fifteen games we're looking forward to in the first half of 2020.