Today I want to introduce to you a project called "

LOLPros.GG"
What is it?
First of, this website isn't new, exactly. We launched the Beta site back in September 2018 – but until now we haven't posted about it on Reddit. The idea behind the site is simple. We want to create a place for players to get their name out there, and for teams to find any potential players. We have over 2000 registered players who are Diamond 1+ on the EUW SoloQ ladder. The majority of these players have been put together by our ever growing team of LoL Esports experts. Our team is made up of people who work for Esports organisations in Management, Coaching, Social Media and more. Our goal is simple. We want to make the EU Amateur and Professional scene stronger.
How does it work?
All of the data on the site is manually entered by members of the team. However once the data is entered everything else is automatically done with the Riot Games LoL API. We enter the players name, any relevant social media and create a profile. After that, we enter an account name which fetches the account through the API and connects it to the profile. From there it begins to track the following:
Current Rank
Peak rank
Rank Tier Graph
Any name changes
Win rate
You can see an example of a profile
here
Now I'll break down all the features & how it works
Features:
Ladder System:
First up, the ladder system. The ladder takes all of the information we enter and the Riot API gathers and creates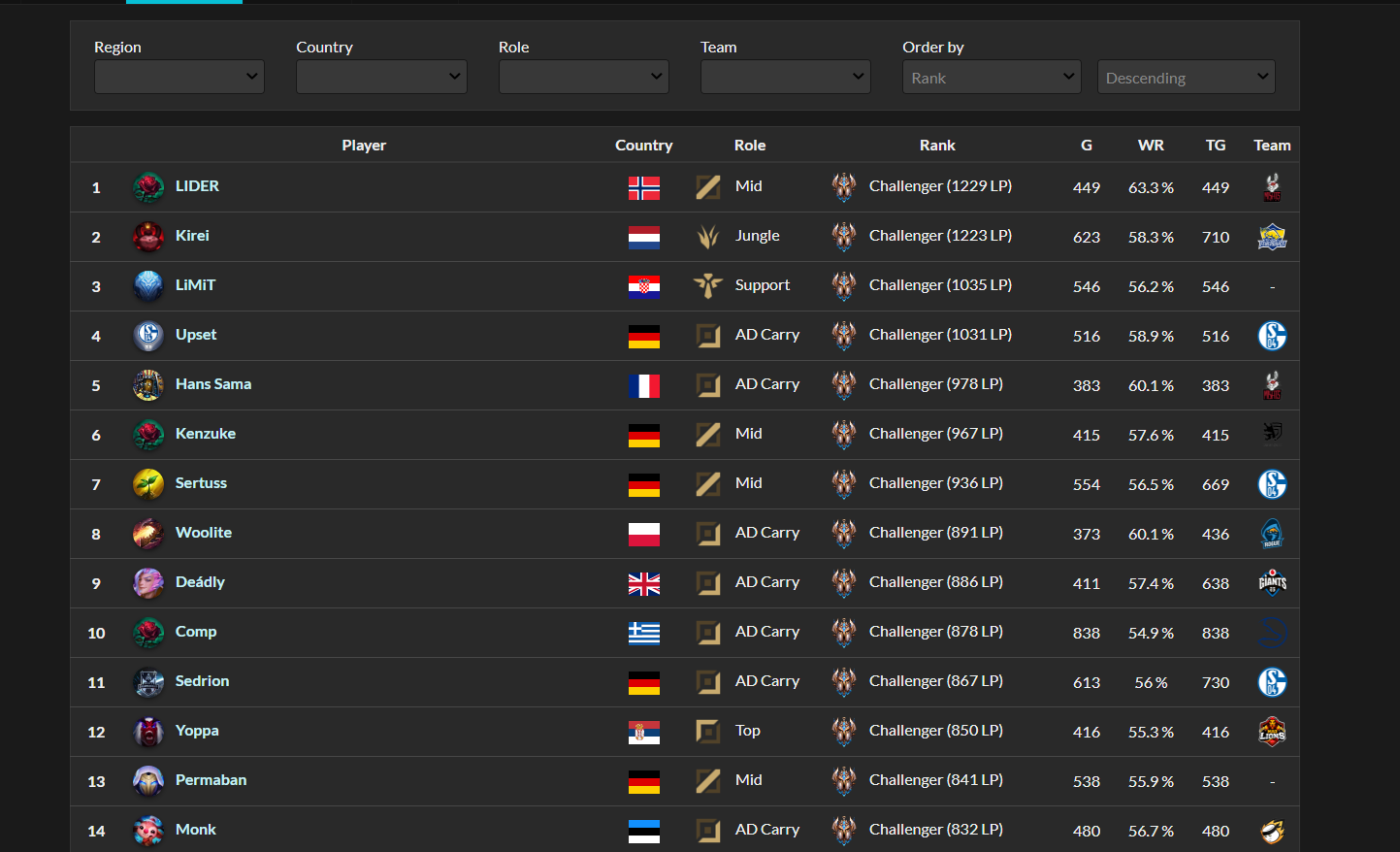 this. The default ladder ranks players from highest rank, to lowest rank – just like the in-client soloQ ladder. However, the ladder on our site is far more complex. The features included are:
Players 'Pro' name
The role they play competitively
Current Rank
Games on their main account / highest ranking
Win rate
'Total Games' – total amount of games across all the accounts they have registered to their profile
Any team they currently play for will be displayed
On the Ladder system we also have extremely extensive 'filters'. Here are some of the main ones:
Region – Filter through all of the 'European Regional Leagues' (ERLs) as well as LEC, Turkey and Russia. This filter will show you players who play in that region / have residency in that region (Also currently featuring an 'EU Masters' filter!)
Country – Filter to show players from a specific country
Role – Choose which in-game role you want to see the list of players for
Team – You can select to see the players for over 100+ teams across Europe, the LEC, Turkey, Russia and NA.
Ladder Order – You can filter the ladder to display players by their Rank, games played, Win rate and peak ELO.
Player Profiles:
Next up is the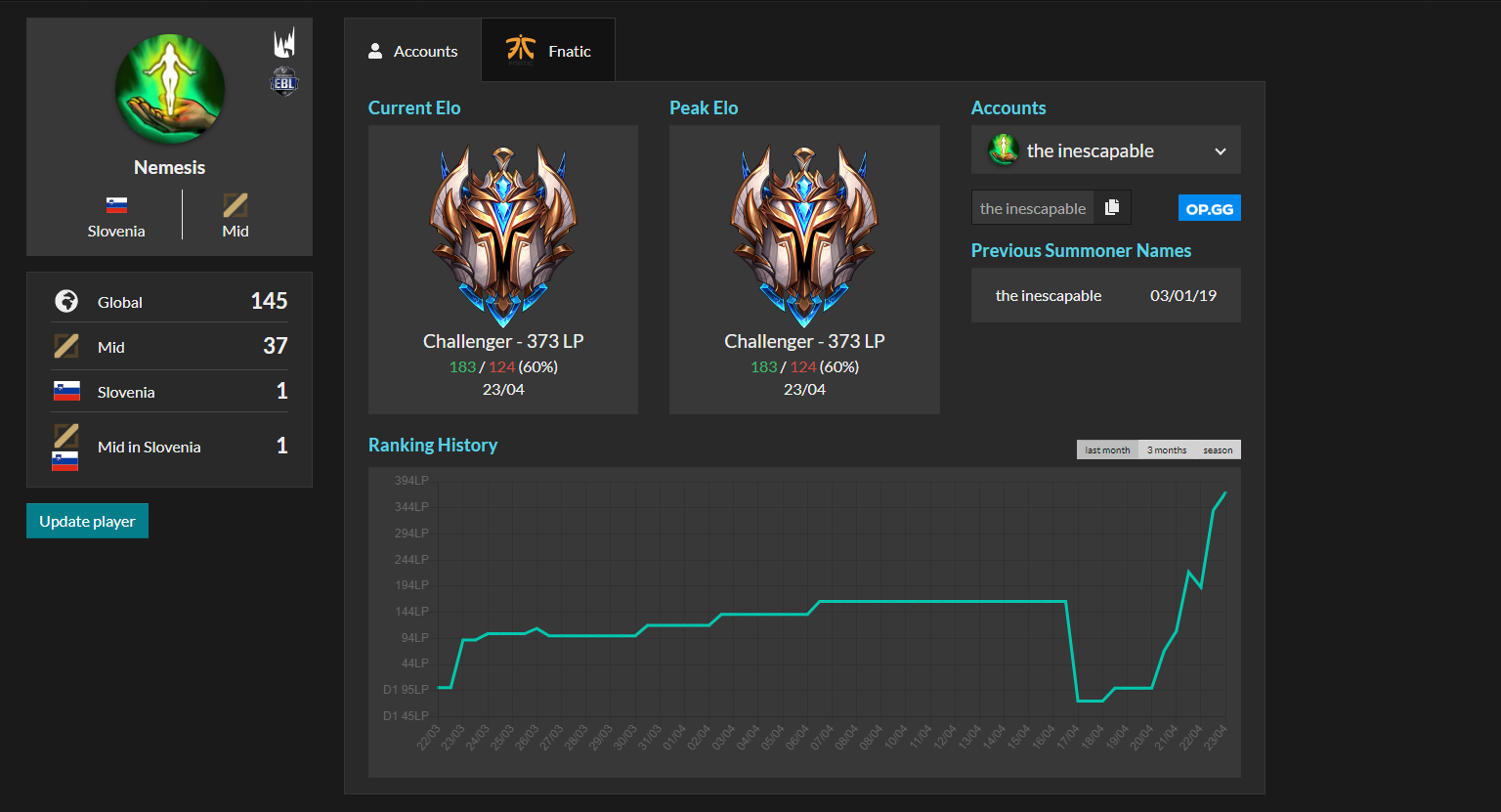 player profiles themselves. The features of these are:
Their rankings among others registered to the site. You can see how they rank Globally, by their role, by their country and by their role in their country.
Their current & peak ELO
All of the accounts they have registered with us
All of their summoner name changes on any and all of their accounts
Direct links to their Twitter, Twitch, Leaguepedia and OPGG profiles
A detailed ranking history graph
The team they play on (If applicable)


Search function:
If you're looking for a player but don't know their summoner names? Find them by searching for their pro name. Or on the flip side, you know the account name of someone but don't know who it is? Search their account name and it'll show who they are if they are registered with us! Most of the ladder filters are also applicable to the search function
Teams:
Finally, we have the teams list. Here you can see an alphabetically organized list of all the teams we have registered on the site. Each team will also have a profile. On this profile you can see the following:
Current & Previous Players with a link to the profile of the players
Their social media links
Their website
The date they joined the team / left the team
The ability to automatically build a Multi OP.GG of all the players on the active roster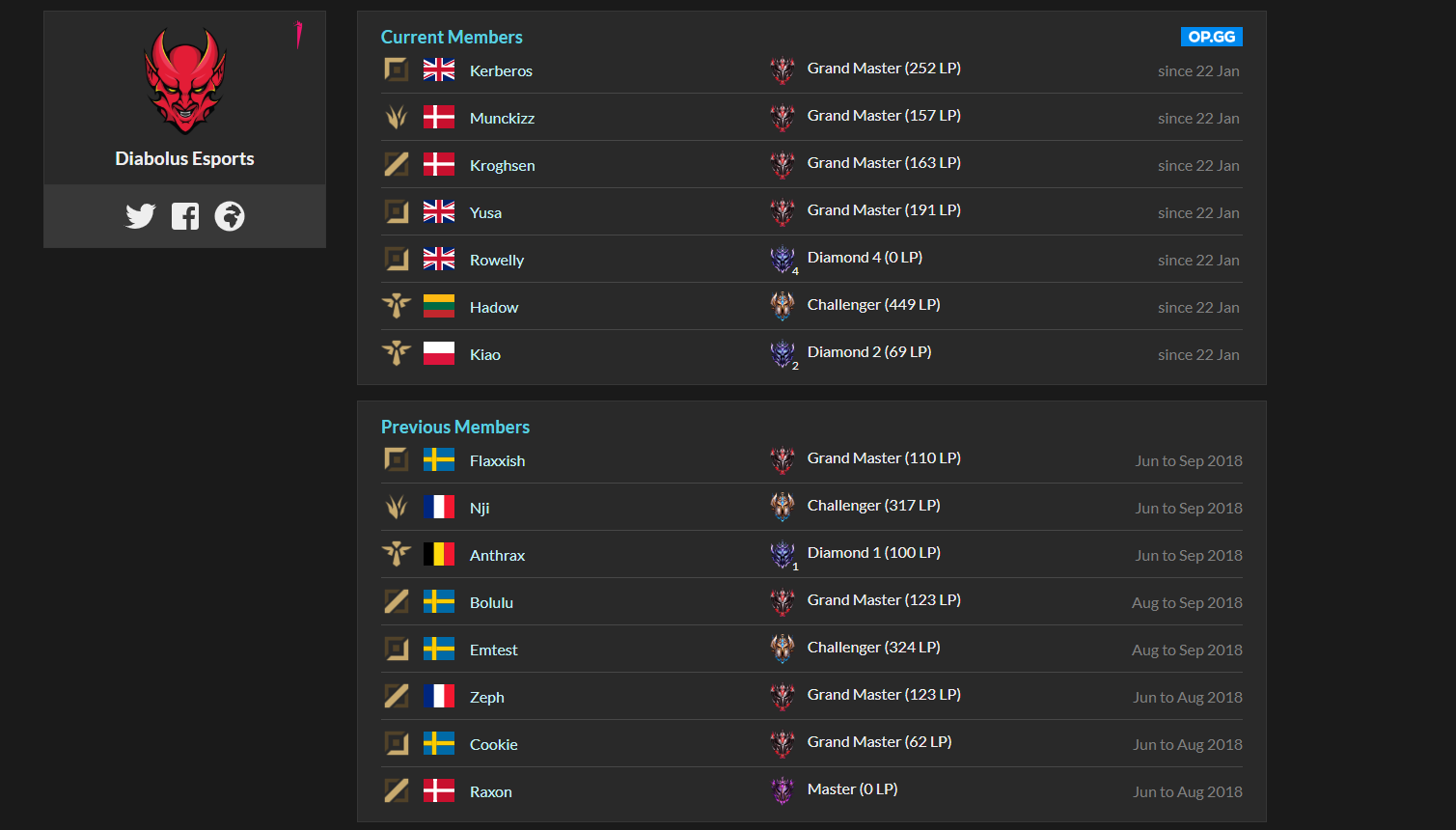 Here is an example of a team profile
There are a lot more smaller features but to avoid making this a short story I will leave those out.
About the people behind the site:
The project was originally started by myself and my friend 'Chypriote'. He's an insanely talented developer and is responsible for every line of code on the website. Outside of this site we both work in Esports Management for teams in Europe. Since inception we have added several people to the team including 'Region Managers' (People who are very knowledgeable about a region and gather data for that region', a designer, community manager and much more. Currently everyone works voluntarily and the website is entirely self-funded.
There's a lot more to come and we have huge ambitions for the site and other future projects (One of which will be our own live game search)! We really hope you like the website and would love any feedback on it. It's not perfect and there are some bugs which we don't catch. If you see any, let us know!
Website link
(For those who can't be bothered to scroll back to the top)
Source: Original link
---
© Post "Introducing LOLPros.GG – The largest online database of EU Pros & Amateurs!" for game League of Legends.
Top 10 Most Anticipated Video Games of 2020
2020 will have something to satisfy classic and modern gamers alike. To be eligible for the list, the game must be confirmed for 2020, or there should be good reason to expect its release in that year. Therefore, upcoming games with a mere announcement and no discernible release date will not be included.
Top 15 NEW Games of 2020 [FIRST HALF]
2020 has a ton to look forward to...in the video gaming world. Here are fifteen games we're looking forward to in the first half of 2020.