View my other proposals here!
Japanese Casemate and Turreted TD Lines
High-tier Soviet TD Minibranches
Hello everyone! As usual, I've spent the evening Googling, reading blogs, and generally doing everything I can to avoid doing more important stuff. This time, I thought it would be fun to look into Swedish tanks, to learn a bit more about their development history.
A huge amount of thanks has to be given to internet denizens sp15 and renhanxue, who have put in a ton of work researching and making this information available. Each of the vehicle writeups are my own; however, the info contained within is from them. I largely wrote this to share their information with you guys, as I imagine many haven't read their excellent posts.
There are a lot of Swedish tanks, so many in fact that you could probably create half a dozen lines. We already know a medium tank line is coming, so I focused my attention elsewhere. As the title suggests, I found enough material for two lines: an LT line and a turreted TD line. There is a lot of historical overlap between the two lines (shared modules yay!), which I will explain in detail.
For each tank, I will include a blurb on the background for its development, its historical statistics, and how I'd balance them in the game. I will also include a picture of each design and a note on its historical accuracy (mass-produced, blueprint-only, etc).
---
Table of Contents
Light Tank Line
Tier 6: Pilen
Tier 7: Ikv 90 T
Tier 8: Ikv 91
Tier 9: Ikv 105
Tier 10: Ikv H1
Turreted TD Line
Tier 5: Ikv H4
Tier 6: Ikv 65 Alt 5
Tier 7: Ikv 90 A
Tier 8: UDES 14E
Tier 9: UDES 14-2
Tier 10: UDES 15/16
Premium Tanks
Tier 8 LT: Ikv H2
Tier 8 TD: UDES 14A
Historical Errata
​
---
Light Tank Line
This line will start at tier 6. I could have made a full line if there was a good candidate for tier 4, but nothing seems to fit. Anyone who actually knows what they're talking about can feel free to correct me. Also, the first tank is a natural extension of the

Strv m/42 as it's basically a lighter version of it.
These vehicles would be stealthy, have good gun depression, and pack a punch, often having the best alpha in their tier. This would be balanced by a large profile, thin armor, and unexceptional top speed.
---
Tier 6: Pilen
Blueprint-only
In 1936, Landsverk produced a new medium tank for the export market, designated the

Lago. It saw limited success on the open market, but that changed in 1941. Sweden found themselves suddenly needing a medium tank to replace its fleet of rapidly-obsolescing 37mm-equipped tanks, so after two years of development, they improved Landsverk's Lago tank into the
Strv m/42
, with production beginning in early 1943. This was a perfectly
, but it required a number of upgrades, and by 1946 plans were forming to replace the vehicle entirely. In 1947, Landsverk designed a new tank for the export market, dubbing it the "Pilen" (Swedish for "arrow"), which shared many common components with the Strv m/42. It offered a lower and wider chassis, better sloping on the armor, and a bigger turret. Plans were made to equip it with the turret and 75mm gun of the
Leo
medium tank, but ultimately the tank never made it past the blueprint stage.
Historically, this vehicle weighted 17-19 tons, had a top speed of 55 km/h, and was powered by a 360hp powerplant (2x Rolls-Royce engines), giving it a P/W ratio of up to 21.18 hp/t. Armor was modest, with up to 38mm frontally, 30mm on the turret sides, and 18mm on the hull sides. It initially was designed for the 7.5cm Strvkan m/41, the Lago's top gun, which was later upgraded to the 7.5cm Strvkan m/43, the Strv m/42's top gun. In theory, with the Leo's top turret, it could equip the 10.5cm Strvkan L/18, a 105mm howitzer.
The mobility is perfect for a tier 6 LT, as are the 75mm gun options. I would not give it the 105mm derp, as the 75mm guns already pack a punch with 150 alpha. This would play a lot like the T21 or T37, being slower but punchier.
---
Tier 7: Ikv 90 Typ T
Blueprint-only
One of many proposals for the Ikv ny (Swedish for "new Ikv"), and not the last one we'll see today. Ikv is short for "Infanterikanonvagn", which translates to "Infantry Cannon Wagon", a broad designation that spans light tanks to assault TDs, as long as they are used for infantry support. In 1964, Sweden set out to acquire a cheap new Ikv, and fielded over a dozen designs from Landsverk, Bofors, and Häggslund. Bofors submitted 5 proposals, each designated "Ikv 90", and this was one of their two turreted designs. In 1966, this proposal was rejected along with all of the Bofors designs, as they shared no common parts with other Swedish vehicles.
I am certain data sheets exist of these vehicles; I just don't have them. This is essentially a turreted Ikv 90 B, so it would have similar armor, firepower, and mobility. Based on in-game stats, this corresponds to a top speed of 65 km/h, a P/W of 23.02 hp/t, a 90mm gun, and a maximum of 15mm of armor.
This would play just like the tier 6, except with a bigger gun. It would be very similar to the SP I C. It would be longer and wider, but have a slightly lower profile. Despite its real-world numbers, I'd probably reduce the top speed to 60 km/h, so that it would fit in better at its tier. Otherwise, this would require very little tweaking to fit into tier 7.
---
Tier 8: Ikv 91
Mass-produced, 212 vehicles total
The ultimate result of the Ikv ny project. In 1966, the project was narrowed down to two vehicles: Landsverk's turreted Ikv 65 Alt 5, and Häggslund's toned-down Ikv H1. Both vehicles were built and tested; although the Ikv 65 Alt 5 was preferred, Häggslund's vehicle was accepted as it shared many components with their Pbv 302 armored personnel carrier. The first prototypes for the Ikv 91 were completed in 1969, with production lasting from 1975 to 1978. This fully amphibious 16-ton light tank equipped a Bofors 90mm L/54 low pressure gun, which fired HEAT and HE rounds, and had excellent terrain passability thanks to its wide tracks and high power-to-weight ratio. They were phased out in the late 1990s and early 2000s in favor of the

Strf 90 (aka the CV 90) and
Leopard 2
.
This tank weighed 16.3 tons, had a top speed of 65 km/h, and was powered by a 330hp Volvo diesel engine, giving it a P/W ratio of 20.2 hp/ton. The 90mm gun had -10/+15 degrees of elevation inside the low-profile turret. The exact armor values are a secret, but they're described as resistant "against projectiles up to 25mm in caliber", so it is very thin, certainly less than 40mm thick. Despite its late production run, technologically this fits in well in World of Tanks.
This would play like the

HWK 12, and is extremely similar to the yet-unreleased
HWK 30
(essentially a tier 8
Ru 251
). The engine power would need to be increased, to match the average 30 hp/t of other tier 8 LTs, but otherwise this is a natural fit at tier 8.
---
Tier 9: Ikv 105

Image (turret is facing to the rear)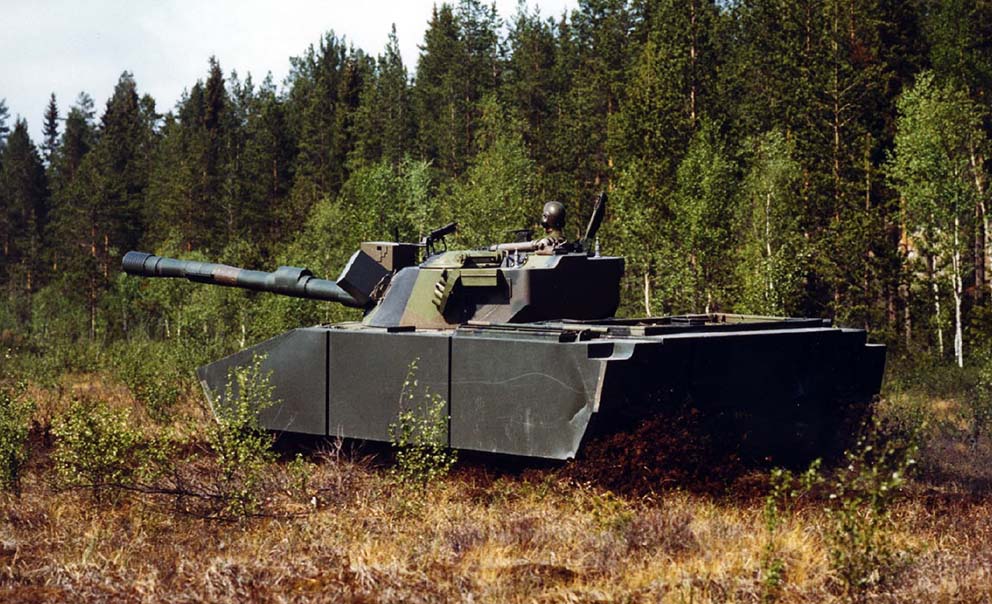 Another Image
Prototype, at least one vehicle built
A proposal to upgrade the Ikv 91 with a NATO 105mm gun. Compared to the Ikv 91, it now weighed 18 tons, but could now swim at up to 12 kph and had better fire control. A prototype was constructed in 1983 and tested, but did not compare well to newer vehicles like the

Strf 90 and
Leopard 2
. The vehicle was marketed for export and tested by both India and the United States, but did not make it very far past that. Information is otherwise lacking, as the tank is new enough to still be partially classified. There is an alternative for this tank: the UDES 14D, which is just a 20-ton version of the Ikv 91 with an enlarged turret and up to 40mm of armor, but this vehicle didn't make it far in its respective project either.
This is the tier 8 tank, but with a 105mm gun. There's not a whole lot else to say that's relevant to this game.
There are a couple ways to go with this tank, depending on how much you want to play with historical values. With a 105mm gun, it would have 360 or even 390 alpha damage, which is fantastic for a tier 9 LT. This would put it somewhere between the Ru 251 and Leopard PT A. However, the tier 10, which this is related to, had more exotic firepower options, including a 90mm autoloader (the exact same one used on the AMX 13 90) and even a 105mm autoloader. A 105mm autoloader is way too much, but a 90mm autoloader as a second gun option would be interesting. Perhaps it would have 3 shots, giving it better burst potential, in exchange for worse accuracy and penetration.
---
Tier 10: Ikv H1
This early version was blueprint-only, but a revised version had at least one prototype constructed
Häggslund's original proposal for the Ikv ny project in 1964. This was a very ambitious vehicle, weighing in at a mere 13.6 tons with a top speed of 85 km/h and equipped with a 90mm autoloader. To achieve this, it was very lightly armored, with 20mm of armor on the front and only 12mm on the sides. The fully traversable turret offered -11/+20 degrees elevation. The gun had a 14-round drum and could fire up to 30 rounds/minute. It also had the option of equipping a 105mm gun, which came as a 4-round autoloader. This was one of the two prototypes selected for further development, but it was greatly simplified to reduce costs. This simplified version ultimately was selected and became the Ikv 91.
With excellent mobility and a wide array of gun options, this tank is a natural fit at tier 10. It may seem a bit odd to place this after the Ikv 91 and Ikv 105, but this is the original proposal, not the later watered-down version that evolved into the Ikv 91.
Oh boy, where to start with this one? With a 105mm autoloader, it would basically be a Rhm Pzw with the AMX 13 105 gun, a terrifying prospect. This would have to be toned down a bit to keep from making the AMX 13 105 irrelevant (the Rhm Pzw is too far gone). I wouldn't mind giving it a 90mm autoloader option, but it would not get 14 rounds – 6 is plenty. The top speed would likely be dialed back to 75 km/h, and the P/W increased to at least 40 hp/t. It would be tricky to balance this tank without making it overpowered, but I think it's possible. Either way, it would be a ton of fun.
​
---
Tank Destroyer Line
This line is in many ways the same as the regular TD line, just with turrets. None of the early vehicles have functional armor, but later on they get thin but very well-sloped armor like the S tanks. The gun performance would be reduced a bit to compensate for its improved flexibility, but many of the vehicles would be rather fast. The camo values would be good, but substantially lower than the regular TD line, simply because those tanks have too much camo as it is. View range would also be quite low. The vehicles in this line would draw various comparisons to the M18 Hellcat and the Charioteer, and to some extent the K-91.
This branch would start at tier 5, branching off either the Sav m/43 or Ikv 103 . I didn't find any standout candidates for low tier TDs; at a glance, it seems that all of their WWII-era development is already covered.
---
Tier 5: Ikv H4
Blueprint-only
One of the many proposals for the Ikv ny project in 1964, this was one of five designs put forth by Häggslund. As with the other Häggslund proposals, this would have had access to an impressive array of weaponry, housed in a turret that is only partially traversable, due to the raised rear engine deck. In 1966, this proposal was passed over, in favor of Landsverk's Ikv 65 Alt 5 and Häggslund's Ikv H1 designs.
This vehicle was considered with a wide variety of weapons, the simplest of which was a manually loaded 90mm gun. This would have been very light, at only 13.6 tons, offered a top speed of 65 km/h, and equipped a 190hp engine, giving it a P/W ratio of 13.97 hp/t. Gun elevation angles would be impressive at -11/+15, and traverse would be at least 90 degrees to each side. In theory, the turret may be fully traversable, but only by elevating the gun very high over the rear, so in-game this would likely have a 180-degree turret, or perhaps a 240-degree turret. Armor was very thin at 20mm max.
A 90mm-equipped TD with a partial turret at tier 5 would be effective, but not out of place – after all, we already have the https://tanks.gg/tank/amx-elc-bis . Compared to the https://tanks.gg/tank/pzsfl-ivc , it would have similar mobility, similar armor, a smaller profile, and much better gun arc, which would likely come at the expense of gun performance. It would be vulnerable to being derped by all those 105mm HE shells flying around. Overall, it would fit reasonably well as a tier 5 TD.
---
Tier 6: Ikv 65 Alt 5
Blueprint-only – I think a prototype was built, but I cannot confirm it*
One of the two Ikv ny proposals selected in 1966 for further development, alongside the Ikv H1. Initially, all five of Landsverk's submissions for the project did not have turrets, but at the government's suggestion, they submitted a turreted design. Initially this had a full turret, but the prototype ended up with a partial turret, as the engine deck had been raised considerably. Reportedly, the Swedish army preferred this vehicle, in part because it was slightly cheaper, but the Häggslund design was selected instead as it had a full turret, could be made amphibious, and shared many parts with the Pbv 302 armored personnel carrier.
Source 1
2
3
Being a design from later in the Ikv ny project, this would have equipped a low-velocity Bofors 90mm L/53 gun. It weighed 15.4 tons, had a top speed of 65 km/h, and was powered by a 270hp Volvo TD 100B, giving it a P/W ratio of 17.53 hp/t. The turret offered -10/+15 degrees gun elevation and had an incredible 25mm gun mantlet; the rest of the armor was 12mm max.
This is an Ikv 65 Alt II with a turret – what else is there to say? Compared to the M18 Hellcat, it will be slower and have only a partial turret, but in exchange would likely get better penetration and gun performance. A solid performer at tier 6, if otherwise unexceptional.
---
Tier 7: Ikv 90 Typ A
Blueprint-only
One of the ill-fated Bofors submissions for the 1964 Ikv ny project, and one of their two turreted proposals. This vehicle was rejected along with the others in 1966, in favor of further developing Landsverk's Ikv 65 Alt 5 and Häggslund's Ikv H1. This vehicle sported a fully traversable rear-mounted turret and equipped a 90mm autoloader with a 4-round clip.
Source 1
2
3
This vehicle weighed 14.5 tons, had a top speed of 60 km/h, and was powered by a 270hp Volvo 5240 engine, giving it a P/W ratio of 18.62 hp/t. The turret offered -10/+12 degrees gun elevation all-around, but was lightly armored at 15mm all-around, compared to 12mm all-around on the hull. The very well-sloped frontal hull may have offered some protection, but likely not much.
This is essentially a turreted Ikv 90 B . It would play a lot like its predecessor, just at tier 7. A 90mm gun doesn't feel great on a tier 7 TD, but I hesitate to give it the historical 90mm autoloader, especially with the 4-round clip. It is probably best compared to the Challenger , giving up some firepower and any semblance of armor to get better mobility, a full turret, and a smaller profile.
---
Tier 8: UDES 14E
Blueprint-only
In the early 1970s, Sweden started a bunch of different research groups to develop next-generation AFVs and anti-tank weapons. The most important of these groups was UDES, headed by Sven Berge, the engineer who developed the S-tank. After successfully prototyping the UDES 03, which was basically a smaller S-tank, they set out in 1972 to design a new vehicle with a low weight and very low profile; this project was dubbed the UDES 14. A variety of proposals were considered, and this was the preferred one of the five submissions made by Bofors. This was further developed and renamed the UDES 15 or the UDES 16 (it's unclear which of the two successful prototypes received which name). Ultimately, the UDES 14 project did not result in a working vehicle, but the knowledge gained resulted in the Strf 90, aka the CV 90, a very popular series of IFVs that are still in service today.
Source 1
This vehicle was very short, at only 2.1m high (6ft 10in). The vehicle weighed 24.7 tons, had a top speed of 70 km/h, and was powered by a 544hp diesel engine, giving it a P/W ratio of 22 hp/t. Armor was reasonable, with 50mm of front hull armor at a very steep slope and up to 37mm frontal turret armor, again at a steep slope. The side armor was much thinner, with 10mm on the side hull (plus 10mm spaced armor) and 25mm on the side turret. The turret offered -3/+20 degrees of elevation, which would've been significantly enhanced due to its hydropneumatic suspension. The standard gun was the 105mm Kan Strv 103, the same gun used on the Strv 103B , although an unspecified 120mm autoloader was also considered.
For gameplay purposes, I would just give this the UDES 03's gun – that gun is plenty good for tier 8. I would ignore the 120mm autoloader option entirely. Being essentially a turreted UDES 03, this vehicle would have to use siege mode to get good gun depression, and even then it'll only help over the front and back of the tank. A turreted UDES 03 with non-triple overmatchable armor is a very dangerous proposition, so in addition to worse gun performance, this would have substantially worse camo values, to keep it from being invisible. Compared to the Charioteer, it has a much lower profile, better penetration, a real gold round, and somewhat good armor, but in exchange it requires siege mode to get any amount of gun depression and to shoot effectively at anything but point-blank range.
---
Tier 9: UDES 14-2
Blueprint-only
Another proposal for the UDES 14 project, this was one of the 9 designs put forth by Bofors. This was one of their six turreted designs, and had the lowest profile of the bunch. It was one of the two favored designs, alongside the UDES 14E, so further development was pursued and this was renamed UDES 15 (or UDES 16, see above). As noted above, the UDES 14 project never resulted in a fully functional vehicle, but knowedge gained from the project was used to design a variety of successful vehicles.
Source 1
This vehicle shared the same low profile as the UDES 14E, with similar physical dimensions. Overall, the statistics for this vehicle would be very similar to the UDES 14E. I am able to find some information, such as its weight (21 tons) and elevation angles (-10/+20 with the assistance of hydropneumatic suspension), but I don't have any more specific information.
This would be an iterative improvement over the tier 8, so this time, it's basically a turreted Strv 103-0 . Although the UDES 14 project in general considered more exotic firepower options, I am perfectly content to give this the Strv 103-0's top gun as its primary armament. It would have the same strengths and tradeoffs as the tier 8, such as relying on siege mode to get full gun depression over the front and back, as well as to fire effectively.
---
Tier 10: UDES 15/16
Full-scale model built
The culmination of the UDES 14 project. Sometime after 1973, the UDES 15 and 16 designs were combined into a single concept. This was a turreted MBT in the 25-30 ton range, which equipped a 105mm autoloader (mechanical autoloader, as used in the S-tanks). Ultimately, the vehicle never made it past a full-scale model, as prevailing political and economic conditions pushed back the development of the next Swedish tank to the future.
Source 1

2

Despite its designation as an MBT, this would have likely equipped a similar gun to the preceding prototypes, and based on the weight, it would not have had substantially more hull armor. The turret face was 65mm thick at a 72 degree angle, with various less-sloped portions reaching up to 160mm thick. It too relied on hydropneumatic suspension to access its full gun elevation range of -10/+20 degrees. The gun is likely the same one used by the

Strv 103B
.
This would again be an iterative improvement over its predecessor. Again, this is basically a turreted Strv 103B, although inevitably some comparisons would be made to the K-91. Using the Strv 103B's top gun, albeit with worse performance, it would be very potent despite having very low alpha for a tier 10 TD. Its armor would have similar effectiveness to its casemate counterpart, being thicker but lacking a HEAT shield. Compared to the K-91, it would undoubtedly have a better gun, but it would be reliant on siege mode to be able to use it effectively.
​
---
Premium Tanks
What good is a new tech tree if there isn't a premium tank to go along with it? With the sheer number of prototypes floating around, there's no surprise that we have a tier 8 premium tank for each line.
---
Tier 8 LT: Ikv H2
Blueprint-only
Another one of Häggslund's many proposals for the 1964 Ikv ny project. This had a rear turret, but was otherwise very similar to the other turreted proposals. It was rejected in 1966 in favor of two other proposals, the Ikv H1 and Ikv 65 Alt 5.
Source 1
Realistically, many tanks could be used for this – I just picked the Ikv H2 because it is visually distinct and would have a slightly different playstyle thanks to its rear turret. Weighing in at around 13 tons, it was expected to have a top speed of 85 km/h. It had the same exotic gun options as the tier 10 Ikv H1, but by default was considered with a 90mm autoloader. Gun elevation was excellent at -11/+20 degrees, but it appears it would have reduced gun depression over the front of the hull. Armor was 20mm max frontally.
This would be almost statistically identical to its tech tree counterpart, the Ikv 91, which in turn is very similar to the HWK 12 and the yet-unreleased HWK 30. With solid mobility, a punchy 90mm gun (I would only use the single-shot gun), and good gun depression, it would struggle with low shell velocity and triple-overmatchable armor.
---
Tier 8 TD: UDES 14A
Blueprint-only
One of Häggslund's other UDES 14 prototypes, this turreted design offered more armor than the UDES 14E, at the expense of being slightly taller and heavier. The hull designed for this was used in Häggslund's UDES 14B and 14C designs as well. In addition to the 105mm Kan Strv 103, other guns were considered, including the 105mm L7 L/45 and L/51. It utilized hydropneumatic suspension to get a maximum of 10 degrees of gun depression. It was passed over, in favor of the UDES 14E and 14-2.
This vehicle is very similar to the UDES 14E. The frontal armor is 77mm on the hull and 66mm on the turret, putting it beyond the range of triple overmatching. Mobility is excellent, with a top speed of 70 km/h, a weight around 26.4 tons, and a P/W ratio of 20.6 hp/t.
This would play very much like the tech tree UDES 14E, just with better armor. I think the hull is fine, but weakspots would have to be introduced to the turret, as otherwise it would be way too strong. It could either use the Strv S1's gun or possibly the Centurion AX's gun, for a bit of variety. I would give it the CAX's 105mm L7 rather than the Charioteer's, because historically Sweden didn't use the HESH rounds as they were seen as prohibitively expensive.
​
---
Historical Errata
All of the Ikv 65, 90, and H tanks were designed at the same time, as part of the same Ikv ny project to create a replacement vehicle for the Strv 74. The Ikv 65 tanks were from Landsverk, the Ikv 90 tanks were from Bofors, and the Ikv H tanks were from Häggslund. There were many, many different designs – I only scratched the surface here – but I stretch them between tiers 5-7, making the original H1 design a tier 10.
With the exception of the Ikv H1, which is a special case, the exact tiering of the these vehicles is arbitrary. I tried to pick designs that were visually consistent, but they can easily be shuffled or even replaced by other proposals. That class of armor and mobility paired with a 90mm gun is easily balanced for each tier, so it would not affect game balance.
On a similar note, there are at least 14 different UDES 14 proposals, 11 of which had turrets, so the tier 8-10 TDs can potentially be swapped out if so desired. I picked these tanks based on aesthetics, real-world performance, historical gun configurations, and development history.
Source: Original link
---
© Post "Swedish Tech Tree Proposal: LT and Turreted TD Lines" for game World of Tanks.
Top 10 Most Anticipated Video Games of 2020
2020 will have something to satisfy classic and modern gamers alike. To be eligible for the list, the game must be confirmed for 2020, or there should be good reason to expect its release in that year. Therefore, upcoming games with a mere announcement and no discernible release date will not be included.
Top 15 NEW Games of 2020 [FIRST HALF]
2020 has a ton to look forward to...in the video gaming world. Here are fifteen games we're looking forward to in the first half of 2020.